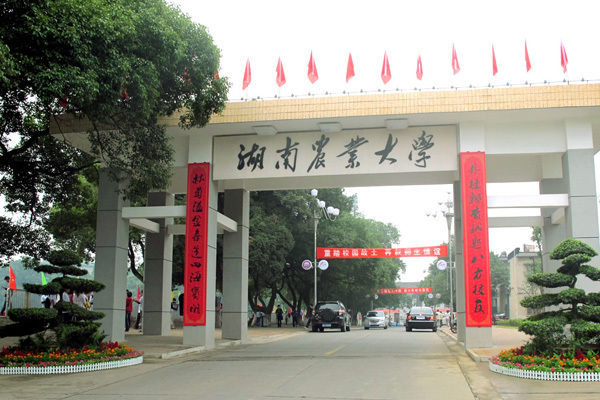 Hunan Agricultural University(HUNAU), a key provincial university under the co-construction of the Ministry of Agriculture and RuralAffairs and the Hunan Provincial People's Government, is the pioneeringconstruction unit of the National "2011" Collaborative Innovation Center andone of the first national research institutes of new rural development as well.Graded "Excellent" in the undergraduate teaching assessment by theMinistry of Education and titled "the National Civilized Unit" and"National Civilized Campus", HUNAU aims to become one of the domesticfirst-class universities in Hunan Province (Class A). Located in Changsha, afamous city bearing long history and profound culture in China, the campuscovers an area of 3,414 acres, offering a quiet and attractive paradise torealize dreams for both teachers and students.
BachelorPrograms
1.Teaching in English
(1)ComputerScience &Technology
(2)Civilengineering
2. Teaching in Chinese
AnimalScience
PlantProtection
EngineeringManagement
PlantScience and Technology
Developmentof Rural Areas
EnvironmentalEngineering
AgriculturalResources & Environment
EnvironmentalScience
SafetyEngineering
BiologicalTechnology
BiologicalEngineering
Ecology
TeaScience
FoodScience & Engineering
AdministrativeManagement
PublicAffairs Management
Labor andSocial Security
InformationEngineering
BusinessAdministration
InternationalEconomy & Trade
Accounting
EducationTechnology
Scholarship
1.ProvincialScholarship
Bachelor15000RMB;
Master 20000RMB;
Doctor 25000RMB
2.Provincialscholarship of the "Belt and Road" Program
LanguageLearning Student:15000RMB
3.University's Scholarship
(1)Full-scholarship (Tuition and Accommodation are free)
(2)Excellent International Students' Scholarship
Firstlevel: Bachelor 14000RMB;
Master 20000RMB;
Doctor 25000RMB
Secondlevel: Bachelor 10000RMB;
Master 14000RMB;
Doctor 18000RMB
(3) General International Student Scholarship
Bachelor7000RMB;
Master 10000RMB;
Doctor12500RMB
(4)Language Learning International StudentsScholarship:7000RMB
4.Students can win only one Scholarship
⭐There are rewards for recommending students!
Create your own business with SAWICH, make your dream come true in China!
Email address:2034882001@qq.com
www.studyandworkinchina.com